How to have fun locally this Easter in Spain
Why have people in Spain stopped travelling far for Easter and resulted to staying put, hence, exploring and enjoying their local areas and cities?
There are two main reasons:
1. Industrial action
Protests and stikes are jeopardising trips over the Easter holidays, with disruption affecting travellers across Spain, making people reconsider travelling.
Poor Spain, it is expecting the worst strike-related disruption, with the security staff at Madrid airport (belonging to the ATES union) are threatening an indefinite strike which started on Friday 12 April.
However, the worst is yet to come. Easter Sunday is supposed to be disrupted by one-day walk-outs called by ground staff belonging to the Union Sindical Obrera and Union General de Trabajadores.
A planned strike on 23 April by train drivers working for Renfe, may result in more train cancellations.
On Spain's railways, workers at Adif (the infrastructure operator, equivalent to Network Rail) are planning to strike today Wednesday 17 April.
2. There's no need to move!
The new Spanish trend is to stop travelling far for Easter and just relax locally! It doesn´t sound very exciting to just stay put, right? But we get it, not only do you save money but also a lot of stress.
Well okay… but we must still have holidays??
Yes we must!
Our tip on how to feel like you are on a mini holiday without moving far? Book a microstay in a hotel for 3, 6 or 12 hours for a daycation to:
Use the hotel's services and facilities like sauna and swimming pool.
Relax on a beautiful rooftop terrace.
Enjoy a different environment with a special someone.
Read your book in a beautiful sorrounding.
Stay overnight to sleep or rest just stay a few hours at the hotel while exploring your local area.
Eat a fantastic meal at the restaurant.
Party and then crash at the hotel nearby.
Where to relax?
These are just a sample of hotels around Spain to give you an idea how you can feel like royalty, resting, disconnecting, giving you the luxury and fun these Easter holidays:
A Madrid BYHOURS
NYX Hotel Madrid by Leonardo Hotels****
Madrid is our top BYHOURS city, with more than 70 hotel options to choose from. But our top recommendation? No other than the hotel with the coolest rooftop in town, the NYX Hotel.
NYX Hotel Madrid by Leonardo Hotels is located only a 10-minute walk from Real Madrid's Bernabeu Stadium.
The area of Tetuan is also a great choice for travellers interested in monuments, culture and sightseeing.
Another one of our top choices is the low-cost, but insanely cool, Sleep'N Atocha. Located in the heart Madrid, with a 9.5 stars for location on booking.com we aren´t surprised as its bang in the middle of the Art Triangle next to the Reina Sofía Museum and just one street from Atocha train station.
It´s a renovated and modern hotel with fully equipped rooms. Cleean, trendy and comfortable. Eye catching design but with a simple elegance, with super fair prices this could possible be the coolest hotel in Madrid if you are on a budget. Check out our article specifically on Sleep'N Atcoha here.
Check out more Madrid BYHOURS here
A Barcelona BYHOURS
BYHOURS is extremely popular in the Catalan capital, with more than 55 hotels to choose from, here are a few of the most loved by costumors for a microstay:
Hotel The Gates Diagonal Barcelona****
We really love the Gates Diagonal! Only 10 minutes from the center of Barcelona. It is next to the Agbar Tower situated on Diagonal Avenue, one of the main streets of Barcelona running through the city.
The accommodation is only a few metro stops away from Catalunya Square and the famous shopping streets of the central area. Sagrada Familia, Port Olimpic and the Cathedral of Barcelona are also within an easy reach.
One of the top picks as the Gran Hotel Havana is located in Casa Fradera, a beautiful historic building dating from 1882. Located on Gran Via de les Corts Catalanes, the hotel is a 10 min walk from Plaza Catalunya (the centre of Barcelona).
The hotel features a rooftop pool with a terrace, where you can enjoy views of the city,
You will also find the Grand Palace Restaurant which serves traditional food and the Dome bar with live music every day.
Check out more Barcelona BYHOURS here
A Bilbao BYHOURS
Hotel Gran Domine Bilbao *****
Silken Gran Hotel Domine is located in Bilbao, opposite to the Guggenheim Museum and 1.3 km from the Etxebarría Park.
This fabulous 5-star hotel offers a range of services and facilities such as a library, a wellness area with sauna, solarium, massages, Turkish bath, free access to the fitness center, bar, spacious sun terrace and a restaurant serving excellent meals throughout the day , so you can feel at home and enjoy every moment of your stay.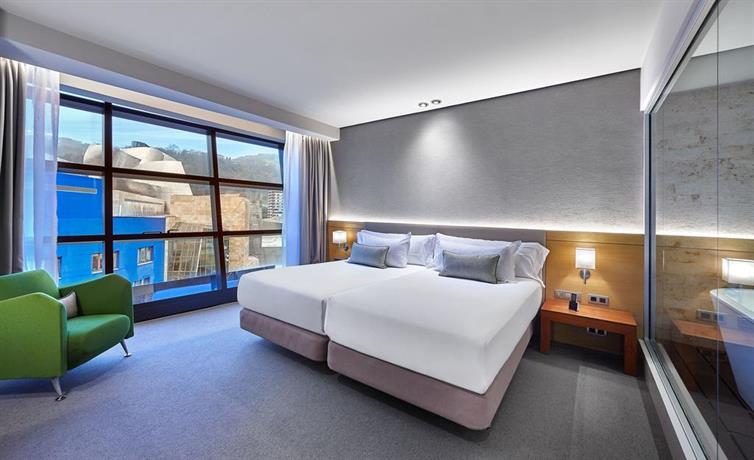 A Valencia BYHOURS
The Barceló Valencia Hotel is situated right in the centre of the City of Arts and Sciences, opposite the Queen Sofia Palace of Arts, a building which was designed by the renown architect Santiago Calatrava, and is situated in one of the most modern and attractive areas of the city of Valencia.
This hotel has two different gastronomic options, which are the Restaurant "Senyoret" specialized in mediterranean cuisine and the Lobby Bar "El Gotet", for casual cuisine.
As well as the excellent gastronomy on offer at the hotel, there is the fantastic U-Wellness centre spread over 500 m2 and located on the 10th floor – with spectacular views over the City of Arts and Sciences.
Check out more Valencia BYHOURS here.
Bye Bye Travel Stress
This Easter do not stress! Stay around your local area, explore it, take advantage of everything it has to to offer.
So stay stress-free and in budget by exploring your own city and local areas this year with a microstay.
For more inspiration on of how to explore Spain, check out our article on where to have a winter break in Spain.
Please follow and like us:
---
---