Napbox & BYHOURS launch the first "one to one" smart meeting booth at the Pier01
In collaboration with BYHOURS, Napbox has installed the first technological meeting booth prototype available by the hour at the Pier01 building Barcelona Tech City, hub of digital and technological entrepreneurship
The digital meeting room allows coworkers to have a space where they can hold meetings of two or three people, calls or videoconferences in a fully equipped environment for periods of time. of 15, 30, 45 or 60 minutes, by booking easily and without cost through the app.

Napbox, a Spanish startup dedicated to the design and marketing of smart cabins for airport breaks (or naps), inspired by the BYHOURS philosophy, has created the One2One Napbox, a private and interactive space that can be reserved by the hour and allows companies to take advantage of office space. BYHOURS, an international company that allows the reservation of microstays in more than 3,000 hotels in 25 countries inññ three continents, participates in this project that aims to bring the reserve model by hours, now applied to work spaces, to Pier 01 professionals.
Created in 2016, Pier 01 is the main project of Barcelona Tech City, a non-profit private initiative that seeks to connect and promote the entrepreneurial ecosystem of the city, of which more than 800 companies currently form part. The Pier01 has the objective of becoming a reference technological space in Europe and in its almost 11,000 square meters, it brings together 100 companies and startups with more than 1,000 professionals. Forbes magazine points it out as one of the six most innovative hubs in the world.
"These digital booths are the result of a joint project whose purpose is to take advantage of empty spaces in offices and turn them into meeting rooms that can be reserved for flexible periods of time. In this way, we have transferred our idea of ​​rest at airports to the workplace in order to improve employee productivity, "says Adriano de Jódar, founder of Napbox.
"Many startups have their own offices but in increasingly open work environments it is important to have private spaces where meetings, videoconferences and calls can be held privately. The Napbox proposal is ideal to manage these spaces for coworking users of Pier 01 of Barcelona Tech City. We hope to be able to incorporate more booths in future locations of the Barcelona Tech City Campus, "says Miquel Martí, CEO of Barcelona Tech City.

Bookings are made through the Napbox App, where you just have to choose the date, time, time of use of the cabin (15, 30, 45 minutes or 1 hour) and location (in this case Tech City), a code is then generated that allows access to the room.
"BYHOURS will always be close to any innovation aimed at business and traveler users, as well as the model for fractions of time, so this project made sense, one of the projects that we will probably launch in 2019 will be able to offer a wide range of meetings rooms¨Guillermo Gaspart, founder of the hotel startup BYHOURS.
This is the first project of Napbox with BYHOURS and the goal is to take it to many different locations, companies, or in other areas such as airports and train stations, among others.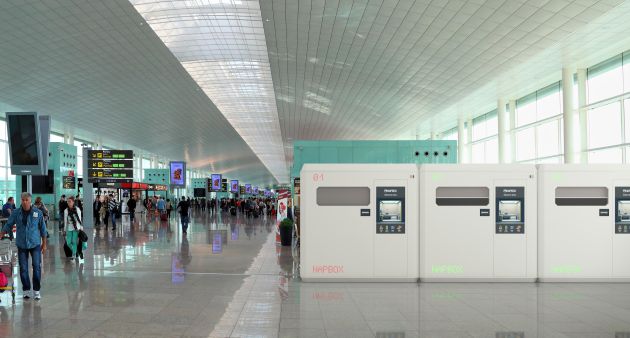 About Napbox
NAPBOX is a Barcelona startup that designs and manufactures automated booths with the objective of profiting from empty spaces in airports and business centers to offer a unique experience for both passengers and employees.
About BYHOURS
BYHOURS is the first online platform and mobile app worldwide that allows you to reserve microstay in more than 3000 hotels in 3, 6 and 12 hour packs. Founded in Barcelona in 2012 by Christian Rodríguez and Guillermo Gaspart, BYHOURS leads the pay-per-use model in hotels in Europe, Latin America and the Middle East.
About Barcelona Tech City
Created by successful entrepreneurs, Barcelona Tech City is a private non-profit association representing more than 800 companies from the digital and technology sectors based in Barcelona, ​​collaborating with the different agents that make up the entrepreneurial ecosystem of Barcelona: entrepreneurs, startups, SMEs, corporations, universities, business schools, public and private organizations, consulting firms and investors. The main objectives are to consolidate the city as an international technological hub and promote innovation among the different agents that make up the entrepreneurial ecosystem of Barcelona, ​​which employs 30,000 professionals.
Please follow and like us:
---
---